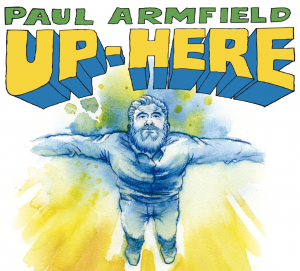 So…. the new album is mixed, mastered and being pressed up as we speak. Unfortunately, budgetary restrictions mean it will not yet be released on vinyl, but CDs and downloads will be available from early October. The cover is a painting by my good friend Florian Mitgutsch and portrays me as a middle aged superhero in mid-flight.
The track-listing is as follows:
1/ Shhh
2/ The Morning After The Storm
3/ Migration
4/ You Will Be Loved Again
5/ The First
6/ This Photograph Is My Proof
7/ The Bell-Ringer's Hands
8/ The Speed Of Clouds
9/ Dust/Rust/Trust
10/ My Apology
11/ Passed
12/ Up Here
Recorded at Studio Humbug by Jim and Rob Homes, the lineup features Rafe Spencer on double bass, Dave Godby on lap steel, pedal steel, oud and hammer dulcimer, JC Grimshaw on mandolins and guitars, Jake Rodrigues on ukulele, banjo, piano, accordion and guitar, Rupert Brown on drums, Brian Sharpe on guitar, Paul Butler on sitar, charanga, kora, piano and horns percussion, Mari Persen on strings, Donal O'Riain on violin and Barklay McKay on piano.