At the end of November I was invited to take run another songwriting workshop, this time not using photographs as inspiration but drawings.
Myself and the four brave 18-30 year olds who had signed up, Chloe, Hannah, Joe and Greg began by walking round the  Drawing Process exhibition which was made up of works by the likes of David Hockney, Elisabeth Frink, Henry Moore and Graham Sutherland as well as a few local artists. I asked each of them to choose five pictures that resonated with them and to write ten words or phrases that immediately came to mind. When we reconvened to discuss our responses there were several pictures that more than half the group had chosen and without too much debate we came to a consensus that the picture we would put to song was 'Cathedral' by Bill Jacklin, a study for a larger work portraying Grand Central Station.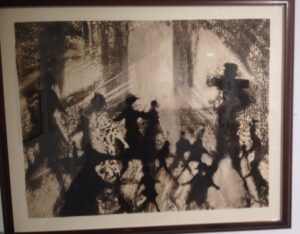 An abstract piece in sepia browns and greys it conveyed all the movement of a busy rush hour train station foyer beneath light pouring onto the scene as through a church window. We found ourselves a room to work in and began to brainstorm, saying anything that the picture brought to mind and writing it down on the largest piece of paper we could find. As we worked through the process I was reminded of the beautifully scene in the Fisher King where Robin William's character walks across Grand Central and all the commuters begin to dance as if in a ballroom and we watched a clip on you tube.
Fashioning a first verse from the list of ideas was an interesting process, I encouraged the group to avoid the obvious, to fight the instinctive rhyming scheme and to take each idea and dress it up in a way that the listener could picture or feel, to take the blunt instrument of language and make it fresh, to strip dull words out or to reorder them to make them jump out a bit more. We eventually came up with this:
Through the rainfall of light striding scissor-like
Shadows dissolve in a moment in strict three four time
Dance daily paces, anonymous faces
Morning angels ascending from light
We were pleased that the pace and rhythm of the words suggested a waltz, and that we had captured our main responses in a poetic way that mirrored the picture. We felt we had set the scene well and explored ways of fleshing this out with a verse that explained a little more explicitly what the song and picture was about. With the template established we each attempted to write a second verse on our own, and from all our various efforts we assembled this:
Ghosts of future commuters that sail through the day
Mark their presence, outlines on the wall
In the blink of an eye the unnoticed pass by
The Grand Central Station at dawn
In the process we came up with a phrase that we thought should definitely be the title: 'Shadows and Silhouettes'.
Happy with our progress we broke for lunch. When we returned we were all noticeably tired, we had worked hard and really stretched ourselves that morning and it was proving very difficult to come up with anything further, our muse seemed to have abandoned us. To break the malaise I asked two people to attempt verses with every word beginning with the same letter, and I asked the other two to set about writing down all the unused ideas down on separate bits of paper. We took the pieces of paper along with a few lines from the single letter exercise and jumbled them up. The results weren't perfect but they were enough to inspire fresh ideas that led to a great third verse.
Dark smudge of motion with dust intertwined
Distant browns interspersed with off whites
The ballroom cathedral that funnels the people
In the colourless drawing of life
As we had been going along, the rhythm of the song was suggesting itself and so we began to attempt a melody and chord structure. I would come up with an idea or two and as a group we would decide which ideas worked and suggest alternatives or modifications until we had the verses done. But we still were without a chorus, just the three words of the title, but as often happens at this point, inspiration struck and the chorus almost wrote itself.
Shadows and silhouettes, too fast to see
Mirage of pirouettes in sepia dreams
When a song is completed there is still a final process before you can call it finished and that is to sing it through at least half a dozen times, this seems to have the effect of sanding down the rough edges and getting rid of any snagging. We unfortunately didn't have that much time so the recording we made here is when the ink was still wet, but I have recorded a version of the song subsequently which is a little more finished. You can hear below.
A great day and a song that fits the painting perfectly.