Earlier this month I was invited by the wonderful people at Ventnor Exchange to come and run a songwriting workshop for 11-15 year olds on a Sunday afternoon. I've done quite a few workshops like this recently, they tie in very nicely with the process of writing songs for the 'Found' project. The found photographs from my friend Elinor's amazing collection provide so many possible starting points, so many opportunities to catch the imagination of even the most cynical and reluctant youth. And so, myself and the ten youngsters who had gathered round the table for this session broke the ice by looking through a selection of these photographs, talking about what we saw. I am always quite startled by the variety of responses that the same image can inspire in different people, what we see reveals a lot about ourselves, and it's a great way to get to know a group, and what a characterful group they were. From the mischievous to the well behaved, some confident, some bashful, some lively, some dozy; it was a lovely group and throughout the day they would surprise me time and again not only with their creativity, but also with their mutual respect and levels of diplomacy that would put most adult groups to shame.
From the pictures we had looked at I asked them to choose a shortlist of images we would like to write a song about, and from that, to narrow it down even further to just one photograph. Their final choice was completely unanimous and a real surprise, I thought it the most subtly charming of the selection I had shown them, with less of an obvious narrative, but as a group they were all completely enchanted by it. Here it is: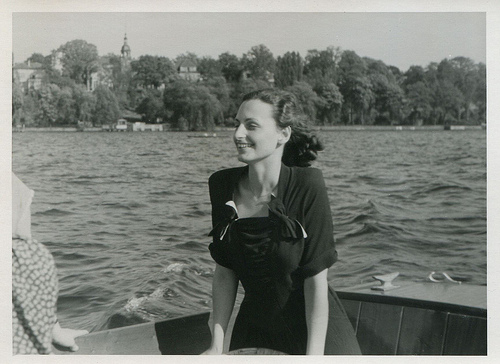 I have to confess to being very happy with their choice, it is one of the pictures I had earmarked myself to write about for my album, but, despite several attempts I never got very far with it. I'm a little bit in love with the woman in the picture, she displays a carefree beauty that advertisers could only ever dream of. There is something irresistible about her that I think the group picked up on, we'd all love to be either her, or with her at the very moment this picture was taken.
I asked each of the group to write at least ten responses to the picture, whether it be an observation, a feeling, an assumption…whatever came into their head and we then shared those with the group, and just as when I write alone, I recorded all these ideas onto the biggest piece of paper I could find, creating a sort of messy mind-map that we can gradually tidy up into a song. Their responses were fabulous, startlingly varied, from the factual: 'I think it's the Bodensee', to the romantic: 'I think she's on the Lake of Love'. It was clear that they had thought themselves into the picture completely and we were all in agreement that she was in the throes of love, perhaps on honeymoon. One particularly imaginative and enthusiastic contributor felt certain that she was called Joanna, we all thought that the name suited her perfectly and with no effort at all we had the title to the song 'Joanna On The Water'.
Collaboration was easy with this group and, with the tone and rhythm suggested by our brilliant title we had the first verse written in no time, establishing place and time whilst expressing some of the joy that she exudes.
She sails away at the break of day
No troubles on her mind
Drifting away on the Lake of Love
Her wake of woes behind.
Now with our rhyming scheme and line length established they each had an attempt on their own to write that difficult second verse, and some beautiful poetry emerged. We struggled to get beyond the happiness of the moment so wonderfully evoked in the first verse but then one of the older girls came up with this  fabulous line 'Reaching out for memories to come'! and moved the song beyond the moment in the picture. The second verse in full came out like this:
Her thoughts are only happy ones
As she tastes the salt-tinged air
Reaching out for memories to come
As the wind blows through her hair
For the chorus I suggested they might want to think about who had taken the photo, who was sharing this moment with her and they ran with this, they also took on board the slightly cynical suggestion by one of the group that the happiness might not have been long lasting. What they came up with was this perfect bittersweet summary:
Joanna on the water
Looking back in time
At Joanna on the water
Who once was mine
So now all that was left was to allude to what might have happened to take Joanna away, and they came up with some wonderful water based metaphors for how things change over time and constructed this rather sad, enigmatic and slightly sinister final verse:
We sailed away at the break of day
Before summer turned to rain
I lost her when the tide had changed
Joanna was never seen again.
For the melody I tend to take more of an active role as it can be quite impractical to write a tune collectively and by the time we have finished the lyrics I have a fairly good idea of how it might sound. However at a recent workshop I began playing what I had imagined for the lyrics they had written to be stopped in my tracks by one of the group who very confidently told me that they heard something much different, picked up the guitar and played something infinitely better. But in this instance the group enjoyed what I suggested and contributed a few ideas of their own as to how it might be improved. I'm always reluctant to ask them to sing along as I know how bashful young people can be, but this group were having none of it, when I pressed record on my phone they all joined in with gusto, even improvising their own harmonies. As you can hear:
A wonderful day and a fabulous song, thank you Bilbo, Ebb, Vanessa, Sophie, Esme, Harriet, Jess, Iris, Danny, Emily, John, Jack and Mhairi.