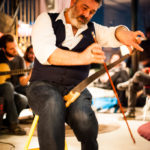 On my recent tour of Europe I was very pleased to be invited by the Vienna Songwriting Association to be the surprise guest at their album launch. The Sky Is Big Today is the the 6th album in the Between The Lines series. Each album commemorates the previous year's Bluebird Festival featuring artists that performed as well as artists that have inspired the organisers.
I'm very proud to have been a part of last year's event, and the album features a recording of myself and the band performing The Morning After The Storm live at the festival.
The CD launch was a fun affair on the terrace bar of the 25Hour Hotel with fantastic views over Vienna, I dined with and listened to the gorgeous Kidkat Lo-Fi before giving my own performance with my good friend Marko Markovich accompanying me for one number (see pic).
The evening also saw the premier of the short documentary which you can see below. Featuring footage of all the bands that played last year it's a fine record of one of the best festivals I've had the pleasure of playing. Never a fan of watching myself perform I enjoyed it nonetheless especially at 15:50 where you can see the wonderful but slightly unhinged Adam Green watching us from the wings.
You can buy the CD here.