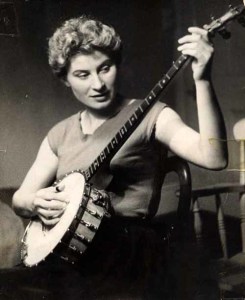 No, not off on tour again quite yet, Adieu To Old England is the traditional song that I have interpreted for the compilation 'Shirley Inspired…'
Shirley Collins has been inspiring people for several decades, ever since she began singing folk songs back in the 50s. Collaborating with a who's who of the folk world from Davy Graham to The Albion Band via the likes of Ashley Hutchins, she spent many years touring the southern states of America with her secret lover the legendary archivist Alan Lomax, recording traditional songs wherever they could find them.
Hers is a story that needs telling, and a documentary film is indeed planned. The album to which I have contributed has come about as one of the many items you can pledge on as part of the Kickstarter campaign to raise funds for the making of the film. Although the campaign has officially closed you can still pledge to get the download of the album here.
Featuring some wonderful contributions from the likes of Graham Coxon, Will Oldham, Alasdair Roberts, Jackie Oates, Johnny Flynn and Tunng, it's a collection that contains an inspiring mix of traditional and more adventurous interpretations. 40 tracks worth £15 of anyone's money. You can see the full line-up here.
My own choice is a prisoner's lament, whose lyrics seem to resonate on a wider scale given the current state of the nation. It features myself on harmonium, euphonium and bass guitarium.